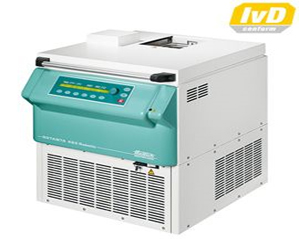 ROTANTA 460 ROBOTIC
The ROTANTA 460 ROBOTIC is a refrigerated centrifuge with PC control and rotor positioning. It is ideal wherever sample processing can be automated. Especially in genetic and pharmaceutical research, it significantly contributes to rationalisation of routine tasks. As well, in pharmaceutical research more and more agents are being tested on cells to keep animal testing to a minimum – necessitating the use of centrifuges.
The ROTANTA 460 ROBOTIC integrates perfectly into automated laboratories. Highly qualified laboratory personnel no longer have to carry out monotonous tasks. Moreover, analyses bearing a high risk of infection can be carried out automatically.
Max. capacity:
in a swing-out rotor: 4 x 250 ml
Max. speed (RPM): 6.200 min-1
Max. RCF: 6.446
Dimensions (H x W x D):
684 x 554 x 697 mm
Weight: approx. 159 kg
Refrigeration:
infinitely variable from – 20°C to +40°C
Frequently used rotors:
Swing-out rotor, 4-place, for various sorts of plates or tubes (90°), max. RCF 4,618 – Cat. No. 4444
ROTANTA 460 ROBOTIC centrifuges can be integrated in any workstation. In addition to standard accessories, we also manufacture special carriers and inserts tailored to your requirements.
ROTANTA 460 ROBOTIC,
Cat.No. 5680