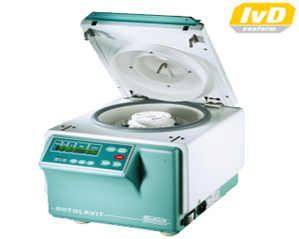 Rotolavit
Automatic cell washing system
One of the routine tasks in blood banks and transfusion centres is cross-matching. It is made to test the compatibility between donor and recipient prior to blood transfusions. With the cell washing system ROTOLAVIT, labour-intensive stages of this test can be carried out conveniently and reliably.
First of all, it requires several washing cycles to clean the red blood cells from plasma residues. The washing process is carried out automatically. With every washing cycle the appropriate quantity of saline solution is filled equally into the 12 or 24 tubes of the respective rotor and mixed with a previously pipetted drop of blood or the sediment of the previous cycle. It is then centrifuged and the supernatant is decanted. The washing process allows up to nine sequenced washing cycles per run. When it is finished, the anti-human globulin (Coombs) serum is added manually, in order to assess possible agglutination following the final centrifugation.
Another area of application of the ROTOLAVIT cell washing system is antibody search and differentiation.