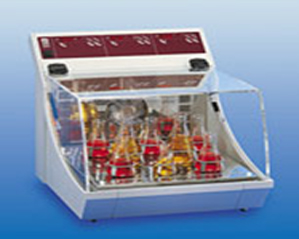 GFl Shaking Incubators, Model: 3031
Specifications and features
Microprocessor-controlled temperature regulation, PID type.
Excellent temperature constancy: ± 0.2 °C temporal at 40 °C.
Optimum temperature distribution throughout the cabinet interior by fan circulation.
Electronic monitoring of the temperature regulator triggers visual alarm in case of fault. The heating is switched off, the cause of the fault is reported in the LED display through error codes.
Adjustable limits for over- and under-temperatures alarms (optical and audible).
Microprocessor-controlled timer displays continuously the current remaining running time of the incubation time and signals acoustically its expiry.
Fast and exact temperature setting, exact reproducibility of set values, such as temperature, shaking frequency and incubation time.
Soft touch keys with characteristic symbols.
Digital temperature readout and setting via LED display, in steps of 0.1 °C.
RS 232 serial interface for trouble-free data transfer.
Built-in cooling coil for applications below ambient temperature as a standard scope of supply.
Silent and robust shaking mechanism with gentle start-up.
Shaking platform made of anodised aluminium, equipped with four plastic pins for secure attachment of shaking tray 3966 or universal mount 3967 (accessories).
Housing made of heavy-duty acrylic glass cover (ABS) and powder-coated, electrolitically galvanised sheet steel.
Lift-up acrylic glass cover.
Applications
Shaking Incubator 3031 is used for applications that require exactly reproducible circular motion and temperatures up to 70 °C. It is preferred by standard and research laboratories for incubations, fermentations, homogenisations, chemical and biochemical reactions, enzyme and tissue studies, as well as for cultivating bacteria cultures.
Technical details
Temperature range approx. 8 °C above ambient temperature to +70°C
Temperature range
(operation with cooling coil) +20 °C to +70 °C *
Temperature constancy (temporal) ± 0.2 °C
Shaking motion orbital, can be switched on and off
Shaking frequency 10 – 250 rpm
Shaking amplitude 30 mm
Maximum load 12 kgs
Timer 1 minute to 999 hours
Volume/
Capacity approx. 46 l / 1 shaking tray
Inner dimensions
(W x D x H) 450 x 450 x 280 mm
Exterior dimensions
(W x D x H) 525 x 665 x 570 mm
Electrical connection 230 V / 50…60 Hz / 0.8 kW **
Net / gross weight 38.5 kg / 50.0 kg
Packing volume approx. 0.51 m3