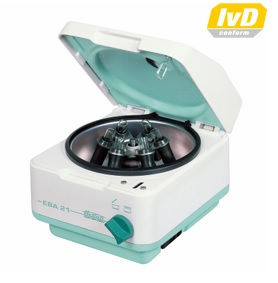 EBA 21
Maximum performance in microlitre centrifugation coupled with reliability in daily laboratory routine.
The EBA 21 can be operated with both speed and RCF data.
Running time, program number, and 9 preselectable braking and accelerating levels can be conveniently entered via the foil keypad integrated in the centrifuge's lid. The parameters are digitally displayed. Maximum safety is provided by metal housing, rotor detection, lid locking and holding, and imbalance switch-off. With an extensive range of rotors the EBA 21 easily meets all demands placed of a small, high-performance centrifuge.
Max. capacity:
in an angle rotor: 6 x 50 ml
in a swing-out rotor: 6 x 15 ml
in a hematocrit rotor: 24 standard capillaries
Max. speed (RPM): 18.000 min-1
Max. RCF: 25.718
Dimensions (H x W x D):
247 x 275 x 330 mm
Weight: approx. 11 kg
Refrigeration: Air cooling
Frequently used rotors:
Angle rotor for 6 x 50 ml, max. RCF 4,025 – Cat. No. 1116
Angle rotor for 30 x 1.5 / 2 ml, max. RCF 21,255 – Cat. No. 1089-A
Swing-out rotor for 12 x 5 ml (60°), max. RCF 2,963 – Cat. No. 1126