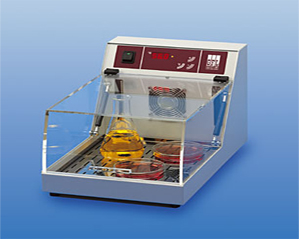 GFL Mini Incubator, Model: 4010
Specifications and features
Microprocessor-controlled temperature regulation.
Excellent temperature constancy: ± 0.2 °C temporal at 40 °C.
Optimum temperature distribution throughout the cabinet interior by fan circulation.
Exact reproducibility of the set value by fast and exact temperature setting.
Electronic monitoring of the temperature regulator triggers visual alarm in case of fault. The heating is switched off, the cause of the fault is reported in the LED display through error codes.
Digital temperature readout and setting via LED display, in steps of 0.1 °C.
Thermostatic over-temperature cut-out to protect the heating element.
Soft touch keys with characteristic symbols.
Compact build, little space required for versatile aplications directly on the workbench.
Perforated tray and bottom tray are made of stainless steel.
Lift-up acrylic glass cover.
Housing made of electrolytically galvanised sheet steel, powder-coated.
Applications
Mini Incubator 4010 is most suitable for incubations that demand exactly reproducible temperatures as well as for tempering, warming and drying of samples. The lift-up, see-through acrylic cover permits a clear view of the cultures in the interior cabinet.
Technical details
Temperature range approx. 8 °C über Raumtemperatur bis +60 °C
Temperature constancy (temporal) ± 0.2 °C at 40 °C
Volume approx. 12 l
Maximum load 5 kgs
Interior dimensions
(W x D x H) 230 x 310 x 170 mm
Exterior dimensions
(W x D x H) 280 x 510 x 280 mm
Electrical connection 230 V / 50…60 Hz / 0.33 kW *
Net / gross weight 10.1 kgs / 11.8 kgs
Packing volume approx. 0.11 m3