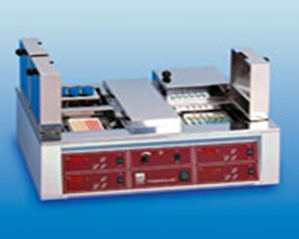 GFL Thermolab
Specifications and features
Quadrothermal shaking water bath with four separate, independently heatable basins.
Microprocessor-controlled temperature regulation.
Excellent temperature constancy: ± 0.1 °C temporal at 50 °C.
Optimum temperature distribution throughout the whole bath interior.
Digital temperature readout and setting via LED display, in steps of 0.1 °C.
Soft touch keys with characteristic symbols.
Electronic monitoring; in case of fault, cause is reported on display.
Two independently working over-temperature protections.
Maintenance-free and low-wear shaking mechanism, continuously adjustable electronic speed control, gentle start-up.
Height-adjustable sample holders.
Bath interiors and shaking racks made of stainless steel.
Four double-walled arched lids with insulating capacity – no dropping back of condensed water into the vessels.
Corrosion proof exterior housing made of electrolytically galvanised sheet steel, powder-coated.
Drain cock at the back of the bath.
Applications
THERMOLAB ® is versatilely applicable and exemplary when an excellent temperature constancy is called for, e. g. for polymerase chain reactions (PCR), for the preparation of enzyme and DNA tests or hybridisations.
Technical details
Temperature range approx. 5 °C above ambient temperature to 99.9 °C
Shaking motion reciprocating, with on / off switch
Shaking frequency from 2 – 50 min -1
Shaking amplitude 22 mm
Working height of bath 80 mm
Sample holder hight-adjustable, 32 mm
Dimensions sample holder 128 x 128 mm
Inner dimensions
(W x D x H) 175 x 175 x 100 mm, each bassin
Exterior dimensions
(W x D x H) 625 x 556 x 270 mm
Electrical connection 230 V / 50…60 Hz / 1.3 kW
Net / gross weight 28.0 / 36.0 kgs
Packing volume approx. 0.34 m3