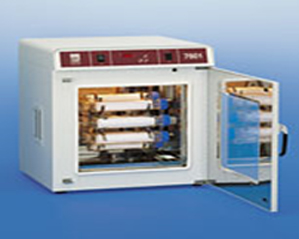 Specifications and features
Microprocessor-controlled temperature regulation.
Very good temperature constancy of ± 0.5 °C.
Optimum temperature distribution throughout the cabinet interior by fan circulation.
Electronic monitoring of the temperature regulator triggers visual alarm in case of fault. The heating is switched off, the cause of the fault is reported in the LED display through error codes.
Digital temperature readout and setting via LED display, in steps of 0.1 °C.
Thermostatic over-temperature cut-out to protect the heating element.
Soft touch keys with characteristic symbols.
High resolutions of the detections and even results due to the constancy of 10 rpm.
Variable rotating rack, max. capacity 16 hybridisation tubes.
Removable rotating rack, can be replaced by up to 5 tilt resistant and extricable perforated trays.
Key to switch on two cabinet lamps.
Interior parts of the unit and the rotating rack made of stainless steeel.
Housing made of electrolytically galvanised sheet steel, powder-coated.
Clear view of the interior cabinet through a large acrylic glass window.
2 clip wheels 7940, 4 bottles 7945 as well as 8 spring clips 7937 are in the standard scope of supply.
Applications
Due to the small quantity of necessary hybridisation liquid it is possible to work with a high concentration of probes or antibodies. Therefore, the Hybridisation Incubator 7601 is considered as the ideal unit for exact hybridisations of DNA and RNA probes with nucleic acid on filter paper and for incubations of protein blots with antibodies.
Technical details
Temperature range approx. 8 °C above ambient temperature to +99.9 °C
Temperature constancy (temporal) ± 0.5 °C
Rotations speed of the rotating rack 10 / min., fix
Cabinet illumination 2 lamps at 25 W
Interior dimensions
(W x D x H) 400 x 330 x 380 mm
Exterior dimensions
(W x D x H) 585 x 630 x 650 mm
Electrical connection 230V ±10% / 50…60 Hz / 0.65 kW *
Net / gross weight 45.0 kgs / 54.0 kgs
Packing volume approx. 0.51 m3