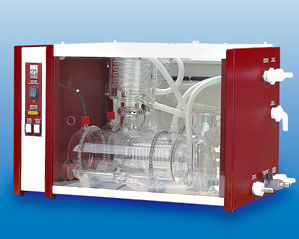 Specifications and features
Glass Water Still for single distillation (fully automatic), suitable for both bench and wall mounting.
Very good distillate quality; conductivity single distillate: approx. 2.2 µs/cm at 25 °C (see "Technical Details").
Electronic level control during the whole distilling process.
Electronic impurity detector effects rinsing and cleaning of the evaporator by automatic water change.
Water level control in the boiler automatically switches off the power in case of water shortage.
Economical energy consumption by distillation of the heated cooling water.
Water saving through automatic water cut-off. Unnecessary water consumption will be avoided.
Sterillisation of the condensers by steam.
Visible distillation process due to the easily removable, unbreakable front screen which does not steam up.
Quartz sheated heating elements.
Evaporators, condensers and overflows are made of DURAN® / Borosilicate glass 3.3. Condensers with dribble guard.
Distillate withdrawal through hose connection at the right-hand side.
CO2 degassing through outlet in the condenser.
Outer housing made of electrolytically galvanised sheet steel, electrostatically powder coated with epoxy resin.
Water supply through a built-in solenoid valve with connection for pressure hose 1/2″ (inner ø approx. 12.7 mm).
Cooling water outlet with hose connection 1/2 inch (inner- ø approx. 12.7 mm).
Hoses for water in- and outlet are available as accessory.
Applications
GFL Water Stills are used in research and development e. g. for preparing bacteriological and medical samples, for cell and tissue cultures as well as for the production of reagents and unguents. Moreover, distillate is used for cleaning and sterilisation processes, for buffered solutions as well as microbiological and analytical applications and HPLC, too.
Technical details
Capacity 2 l / h
Conductivity approx. 2.2 µs / cm at 25 °C *
Cooling water required approx. 48 l / h
Minimum water pressure 3 bar to max. 7 bar
Exterior dimensions
(W x D x H) 650 x 200 x 390 mm
Electrical connection 230 V / 50…60 Hz / 1.5 kW **
Net weight approx. 16.0 kgs
Gross weight
(cardboard box) approx. 22.0 kgs
Gross weight
(wooden case) approx. 30.0 kgs
Packing volume approx. 0.34 m3