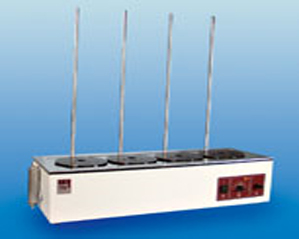 GFL Multiple Water Baths, Model: 1041
Specifications and features
Temperature control by tension thermostat.
Protection of the heating element by over-temperature cut-out.
The openings in the lid are covered by heat-resistant plastic 6-part ring sets.
Bath interior, heating element, frame with openings and 2-part perforated floor plate above the heating element are made of stainless steel.
Housing made of electrolytically galvanised sheet steel, powder-coated.
Adjustable water level regulator available as a standard scope of supply.
Applications
Especially suitable when particular requirements to quality and quantity have to be met, e. g. for gentle multiple steaming work from columns, Erlenmeyer flasks or beakers.
Technical details
Temperature range approx. 5 °C above ambient temperature to +99.9 °C
Openings with sets of rings 4
ø of the openings 131 mm
Working height 90 mm
Exterior dimensions
(W x D x H) 682 x 232 x 190 mm
Electrical connection 230 V / 50…60 Hz / 1.0 kW *
Net / gross weight approx. 12.0 / 15.0 kgs
Packing volume approx. 0.12 m3