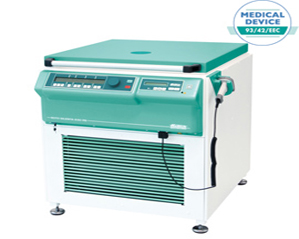 ROTO SILENTA 630 RS
The refrigerated ROTO SILENTA 630 RS features outstanding performance in centrifuging blood bags and large sample quantities. It offers a maximum capacity of 6 x 2000 ml or 12 x 500 ml blood bag systems. Excellent stability even at high performance levels makes the ROTO SILENTA 630 RS a rugged and reliable centrifuging partner. When in use, the cooled large volume centrifuge is positioned on high-quality vibration dampers. To ensure mobility, it is supplied with castors, onto which the ROTO SILENTA 630 RS can be lowered, if necessary. Optimal running performance guarantees best separating results and a good working atmosphere thanks to low noise levels.
The extensive range of accessories for blood collection tubes, standard tubes and various blood bag systems can be centrifuged in one rotor – changing the rotor is not required.
HETTINFO, the Hettich data report system, and customised solutions enable GMP performance, addressing the high-level requirements for user safety and product quality in blood banks and transfusion centres.
Max. capacity:
in a swing-out rotor: 6 x 2.000 ml
Max. speed (RPM): 4.500 min-1
Max. RCF: 6.520
Dimensions (H x W x D):
973 x 813 x 1.015 mm
Weight: approx. 355 kg
Refrigeration:
infinitely variable from – 20°C to +40°C
Rotor:
Swing-out rotor for 6 x 2,000 ml or various kinds of blood bag systems (90°), max. RCF 6,520 – Cat. No. 4176