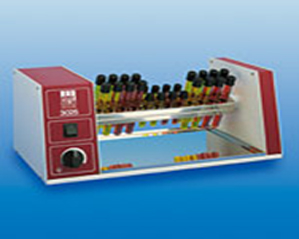 GFL Tube Rotating Shaker
Specifications and features
Dependable, long-lasting and maintenance-free rotator.
Electronic speed control, stepless.
Clearly laid out control panel for easy operation.
Compact, low-wear counterbalanced drive mechanism.
Removable axle for loading outside of the rotator.
Alternative axle equipable with clamps of different sizes optionally available (without surcharge, on request).
Axle and drip pan made of stainless steel.
Housing made of electrolytically galvanised sheet steel, powder-coated.
Applications
Smooth and exact motion – that is what this rotator model guarantees when it comes to separating and/or mixing applications. The unit is well-suited for use in laboratories, incubation and moderating rooms in ambient temperatures between +10 and +50 °C.
Technical details
Shaking motion overhead-rotating
Control analogue
Rotation axle capacity max.
24 test tubes, 12-17 mm Ø
tube lenght: from 75 to 180 mm
Speed 6 – 60 rpm
Ambient temperature +10 °C to +50 °C
Exterior dimensions
(W x D x H) 490 x 330 x 220 mm
Electrical connection 230 V / 50…60 Hz / 80 W *
Net / gross weight 10.0 / 12.0 kgs
Packing volume approx. 0.1 m3