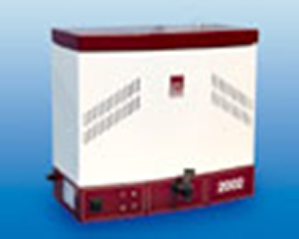 GFL Single distillation Water Stills with storage tank, Model 2002
Specifications and features
Water Still for single distillation (fully automatic) with storage tank, suitable for both bench and wall mounting.
Very good distillate quality; conductivity approx. 2.3 µs / cm at 25 °C (see "Technical Details").
The distillate storage tank accepts twice the hourly capacity of the still.
Electronic level switch switches the still off when the storage tank is full and restarts it automatically when distillate is withdrawn.
Electronic impurity detector switches the unit off in case of high degree impurities of the water in the evaporator, the red pilot lamp "Clean" will glow.
Thermostatic low water cut-off.
Economical energy consumption by distillation of the heated cooling water.
Water saving through automatic water cut-off. Unnecessary water consumption will be avoided.
Evaporator easily accessible for cleaning purposes .
Condenser (cooling coil) inside the storage tank, easily exchangeable.
Distillate withdrawal through drain cock with continuous and touch position.
CO2 degassing through outlet in the condenser.
Heating element, evaporator, storage tank and condenser made of stainless steel.
Double-walled housing. Outer housing made of electrolytically galvanised sheet steel, electrostatically powder-coated with epoxy resin.
Water supply through a built-in solenoid valve with connection for pressure hose 1/2″ (inner ø approx. 12.7 mm).
Cooling water outlet with hose connection 3/4″ (ø approx. 19.0 mm).
Hoses for water in- and outlet are available as accessory.
Applications
GFL Water Stills are used in research and development e. g. for preparing bacteriological and medical samples, for cell and tissue cultures as well as for the production of reagents and unguents. Moreover, distillate is used for cleaning and sterilisation processes, for buffered solutions as well as microbiological and analytical applications.
Technical details
Capacity 2 l / h
Conductivity approx. 2.3 µs / cm at 25 °C *
Storage tank capacity 4 l
Cooling water required approx. 30 l / h
Minimum water pressure 3 bar to max. 7 bar
Exterior dimensions
(W x D x H) 540 x 290 x 420 mm
Electrical connection 230 V / 50…60 Hz / 1.5 kW **
Net weight approx. 15.4 kgs
Gross weight
(cardboard box) approx. 18.5 kgs
Gross weight
(wooden case) approx. 30. kgs
Packing volume approx. 0.16 m3
* Value averaged by Institut Fresenius for operation with tap water. The distillate quality depends on the quality of raw water.